Working with Time Zones
Background
Setting or updating a Project's time zone using the Procore API requires that specific string values are properly applied for the time_zone attribute. If the string value provided does not match exactly what the Procore API is expecting, a 422 Unprocessable Entity error will be returned.
To illustrate this requirement, let's examine this Postman example showing an attempt to (incorrectly) update an existing project's time zone to "US Pacific Time":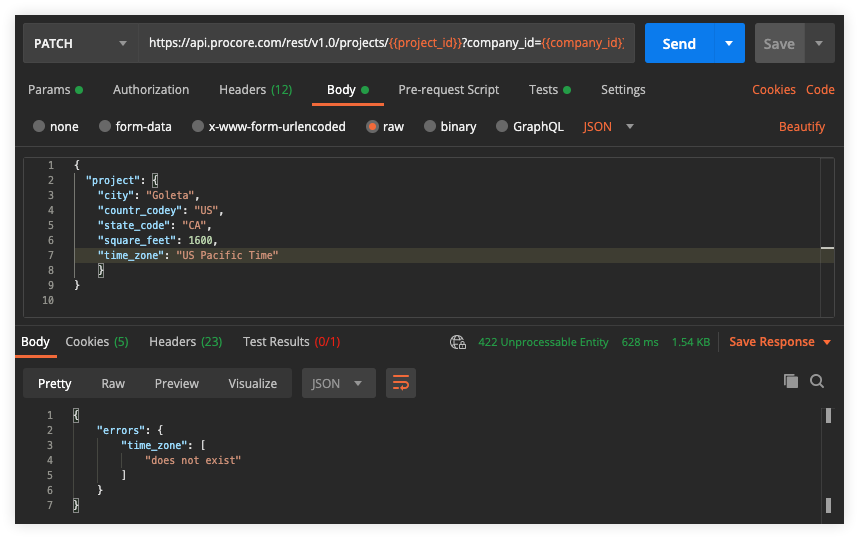 We see an error returned indicating the time zone "does not exist". In other words, the string value we provided in the request body for time_zone did not match any of the supported values. In this case, we would need to provide a value of "US/Pacific" as the time zone identifier in order to have a successfull call.
Supported Time Zones
Here is a list of the time zones currently supported by the Procore API.
| Time Zone Identifer | Geographic Region | UTC Offset (hours) |
| --- | --- | --- |
| American Samoa | Pacific | -11:00 |
| International Date Line West | Pacific | -11:00 |
| Midway Island | Pacific | -11:00 |
| Hawaii | Pacific | -11:00 |
| Alaska | America | -09:00 |
| Pacific Time (US & Canada) | America | -08:00 |
| Tijuana | America | -08:00 |
| US/Pacific | US | -08:00 |
| Arizona | America | -07:00 |
| Chihuahua | America | -07:00 |
| Mazatlan | America | -07:00 |
| Mountain Time (US & Canada) | America | -07:00 |
| Central America | America | -06:00 |
| Central Time (US & Canada) | America | -06:00 |
| Guadalajara | America | -06:00 |
| Mexico City | America | -06:00 |
| Monterrey | America | -06:00 |
| Saskatchewan | America | -06:00 |
| Bogota | America | -05:00 |
| Eastern Time (US & Canada) | America | -05:00 |
| Indiana (East) | America | -05:00 |
| Lima | America | -05:00 |
| Quito | America | -05:00 |
| Atlantic Time (Canada) | America | -04:00 |
| Caracas | America | -04:00 |
| Georgetown | America | -04:00 |
| La Paz | America | -04:00 |
| Santiago | America | -04:00 |
| Newfoundland | America | -03:30 |
| Brasilia | America | -03:00 |
| Buenos Aires | America | -03:00 |
| Greenland | America | -03:00 |
| Montevideo | America | -03:00 |
| Mid-Atlantic | Atlantic | -02:00 |
| Azores | Atlantic | -01:00 |
| Cape Verde Is. | Atlantic | -01:00 |
| Edinburgh | Europe | +00:00 |
| Lisbon | Europe | +00:00 |
| London | Europe | +00:00 |
| Monrovia | Africa | +00:00 |
| UTC | ETC | +00:00 |
| Amsterdam | Europe | +01:00 |
| Belgrade | Europe | +01:00 |
| Berlin | Europe | +01:00 |
| Bern | Europe | +01:00 |
| Bratislava | Europe | +01:00 |
| Brussels | Europe | +01:00 |
| Budapest | Europe | +01:00 |
| Casablanca | Africa | +01:00 |
| Copenhagen | Europe | +01:00 |
| Dublin | Europe | +01:00 |
| Ljubljana | Europe | +01:00 |
| Madrid | Europe | +01:00 |
| Paris | Europe | +01:00 |
| Prague | Europe | +01:00 |
| Rome | Europe | +01:00 |
| Sarajevo | Europe | +01:00 |
| Skopje | Europe | +01:00 |
| Stockholm | Europe | +01:00 |
| Vienna | Europe | +01:00 |
| Warsaw | Europe | +01:00 |
| West Central Africa | Africa | +01:00 |
| Zagreb | Europe | +01:00 |
| Zurich | Europe | +01:00 |
| Athens | Europe | +02:00 |
| Bucharest | Europe | +02:00 |
| Cairo | Africa | +02:00 |
| Harare | Africa | +02:00 |
| Helsinki | Europe | +02:00 |
| Jerusalem | Asia | +02:00 |
| Kaliningrad | Europe | +02:00 |
| Kyiv | Europe | +02:00 |
| Pretoria | Africa | +02:00 |
| Riga | Europe | +02:00 |
| Sofia | Europe | +02:00 |
| Tallinn | Europe | +02:00 |
| Vilnius | Europe | +02:00 |
| Baghdad | Asia | +03:00 |
| Istanbul | Europe | +03:00 |
| Kuwait | Asia | +03:00 |
| Minsk | Europe | +03:00 |
| Moscow | Europe | +03:00 |
| Nairobi | Africa | +03:00 |
| Riyadh | Asia | +03:00 |
| St. Petersburg | Europe | +03:00 |
| Tehran | Asia | +03:30 |
| Abu Dhabi | Asia | +04:00 |
| Baku | Asia | +04:00 |
| Muscat | Asia | +04:00 |
| Samara | Europe | +04:00 |
| Tbilisi | Asia | +04:00 |
| Volgograd | Europe | +04:00 |
| Yerevan | Asia | +04:00 |
| Kabul | Asia | +04:30 |
| Ekaterinburg | Asia | +05:00 |
| Islamabad | Asia | +05:00 |
| Karachi | Asia | +05:00 |
| Tashkent | Asia | +05:00 |
| Chennai | Asia | +05:30 |
| Kolkata | Asia | +05:30 |
| Mumbai | Asia | +05:30 |
| New Delhi | Asia | +05:30 |
| Sri Jayawardenepura | Asia | +05:30 |
| Kathmandu | Asia | +05:45 |
| Almaty | Asia | +06:00 |
| Astana | Asia | +06:00 |
| Dhaka | Asia | +06:00 |
| Urumqi | Asia | +06:00 |
| Rangoon | Asia | +06:30 |
| Bangkok | Asia | +07:00 |
| Hanoi | Asia | +07:00 |
| Jakarta | Asia | +07:00 |
| Krasnoyarsk | Asia | +07:00 |
| Novosibirsk | Asia | +07:00 |
| Beijing | Asia | +08:00 |
| Chongqing | Asia | +08:00 |
| Hong Kong | Asia | +08:00 |
| Irkutsk | Asia | +08:00 |
| Kuala Lumpur | Asia | +08:00 |
| Perth | Australia | +08:00 |
| Singapore | Asia | +08:00 |
| Taipei | Asia | +08:00 |
| Ulaanbaatar | Asia | +08:00 |
| Osaka | Asia | +09:00 |
| Sapporo | Asia | +09:00 |
| Seoul | Asia | +09:00 |
| Tokyo | Asia | +09:00 |
| Yakutsk | Asia | +09:00 |
| Adelaide | Australia | +09:30 |
| Darwin | Australia | +09:30 |
| Brisbane | Australia | +10:00 |
| Canberra | Australia | +10:00 |
| Guam | Pacific | +10:00 |
| Hobart | Australia | +10:00 |
| Melbourne | Australia | +10:00 |
| Port Moresby | Pacific | +10:00 |
| Sydney | Pacific | +10:00 |
| Vladivostok | Asia | +10:00 |
| Magadan | Asia | +11:00 |
| New Caledonia | Pacific | +11:00 |
| Solomon Is. | Pacific | +11:00 |
| Srednekolymsk | Asia | +11:00 |
| Auckland | Pacific | +12:00 |
| Fiji | Pacific | +12:00 |
| Kamchatka | Asia | +12:00 |
| Marshall Is. | Pacific | +12:00 |
| Wellington | Pacific | +12:00 |
| Chatham Is. | Pacific | +12:45 |
| Nuku'alofa | Pacific | +13:00 |
| Samoa | Pacific | +13:00 |
| Tokelau Is. | Pacific | +13:00 |