EXPLORING THE API WITH POSTMAN
An introduction to using Postman as an API development and test tool.
Background
Postman is a very popular and capable platform for working with and testing REST APIs. While you are in the exploratory stage with the Procore Connect API we recommend Postman as a platform for familiarizing yourself with the various endpoints exposed through the API. Postman is a feature-rich application that can run as a Chrome app or natively in Windows or Mac OSX.
Installation
The first step is to get Postman installed on your computer. Because Postman is provided as a Chrome App as well as a native application for Windows and Mac OSX, you will want to pick the installation that makes the most sense for your development environment and processes. Visit the Postman website, download the appropriate installation package, and install as instructed.
The Postman User Interface
At first glance the Postman user interface may seem complicated and even a little intimidating. Let's take a moment to break down the various components on the screen, focusing on the main sections that we'll be working with.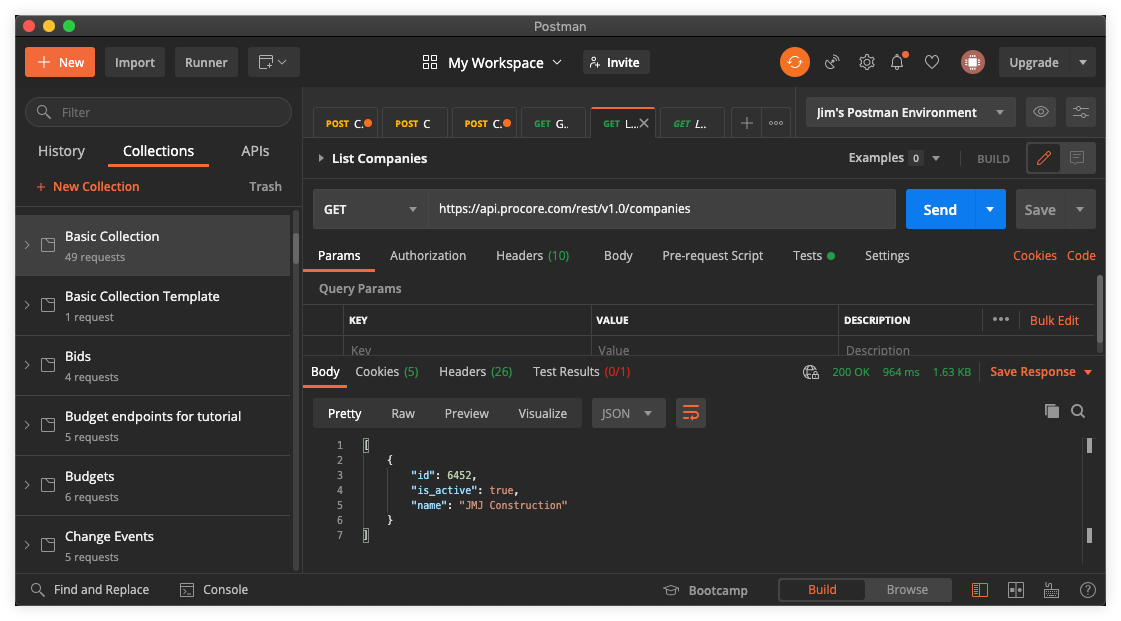 The left-hand side of the screen provides a navigation pane where you can toggle between a History of all the API calls you run and Collections that let you organize calls into logical groupings.
In the right-hand portion of the screen is the Request Builder. Use the Request Builder to construct Procore Connect API requests to send to your sandbox development environment.
Using the drop-down in the Request Builder, select the REST Method you want to use with your request. For example, GET, POST, DELETE, etc.
In the adjacent address bar, enter the URL for the API endpoint that you want to target.
Use the Params button to open up fields where you can enter query parameters that may be required for a given endpoint.
Request Headers can also be specified and you can create Header Presets to store frequently used header data such as Content-Type or Authorization keys.
Use the lower portion of the Request Builder to enter a Request Body. The Response Body is also displayed in the lower portion of the screen.
Finally, use the Send button to initiate the API call in the sandbox development environment.
Useful Postman Documentation
The Postman documentation website provides complete descriptions of all available features, compelling case studies, and comprehensive training material. Below are a number of links to useful documentation on the Postman website.
And here are some helpful Postman training videos...